Deputy Chief Michael A. Nicholson - May 2013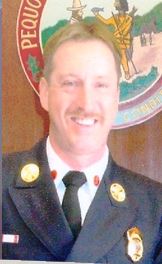 It is with deep regret that Local 1347 announces the passing of Brother Michael A. Nicholson on May 11, 2013.
Michael started in 1980 as a Firefighter for the Watertown Fire Dept., he became a Lieutenant in 1998, Captain in 2003 and Deputy Chief in 2009 before his retirement in 2010. He was a US Army Veteran, and graduate of Emerson College, an avid sportsman and a member of the Watertown Yacht Club. He was the beloved husband of Cynthia M. (Pantalone) and her daughter Kimberly McGinness of Watertown. Michael's nephew Ryan Nicholson is also a member of the Watertown Fire Department.